They ask:
There are many different interpretations of the Bible: why should I believe your?

One of the most common objections we face in discussing Christianity, is that there are many interpretations of the Bible. At first glance it would appear that, given the innumerable conclusions that biblical reading can lead to, it is actually impossible to find a point of agreement. Even within groups that claim to believe in the Bible, there is a variety of denominations deriving from the lack of unanimous consensus in biblical interpretation.
Those who raise this objection usually overlook some basic facts. Eg, most Bible readers have no problem agreeing on the main themes set out in it. To be honest, even scholars who don't believe in the Bible, they have no difficulty in distinguishing its main message.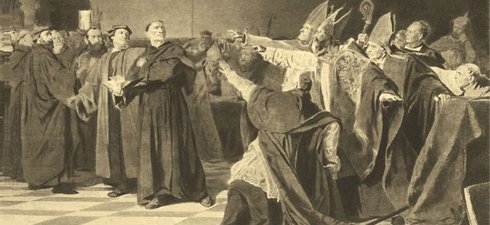 Even among the most diverse ramifications of Christianity there is a fundamental agreement on biblical teaching. Man was made by God in His image, free to choose, but then he fell into rebellion and brought sin into the world. It gave, in his great love, he became man in the person of Jesus Christ, and died in our place, paying for our sin. Now man can be reconciled with God as a result of faith in Jesus Christ.
The message of the Bible is clear to all who read it to discover its true meaning. The problem arises when people adopt their own ideas and preconceptions as keys to reading the biblical text, they use to support what they have already decided to believe. It is obvious that in this case the fault is not the Bible, but of those who manipulate it for their own ends.
Regarding the problem of the different denominations, it should be emphasized that most of them were not born due to divergent interpretations of the main teachings of the Bible, but they derive from particular historical events (what wars of persecution, refusal to enslave any religious authority, be it the pope or the patriarch, etc.), and a variety of cultural factors, ethnic and social.
For some people this objection is simply a pretext for not recognizing the need to believe in Christ; Jesus made the basic message of the Bible clear:
Whoever believes in the Son has eternal life. Lead, instead, disobeys and does not believe, will not see life, but the wrath of God will remain on him (Giovanni 3:36).

Often the real objection is not the interpretation of Scripture, but the desire to escape from the consequences.